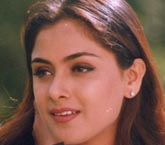 Biography 1
The credit for discovering Simran goes to Jaya Bachchan. She was immediately called her for a screen test and that's how Tere Mere Sapne happened. The film was released amid much hype, as it was the first production of Amitabh Bachchan's ABCL banner. But Tere Mere Sapne flopped at the box office and that was the end of Simran's Hindi filmi career.
Simran packed her bags and moved to the South. Her first Tamil film Once More had her paired with Vijay. The film also starred the thespian Sivaji Ganesan. Even though the film flopped, Simran got noticed on account of her tight, short dresses hugging her hour glass figure. But it was only with VIP that Simran shot into the limelight. VIP, starring Rambha, Prabhu Deva and Abbas, created the image that would make Simran a star the hottest sex symbol in town.
She rapidly shot to the #1 position in the South, a position that she holds till today. She has been paired with all the leading actors of the South excepting Rajnikanth.
Her willingness to act opposite anyobody, her no-nonsense attitude to work and her willingness to expose have paid off handily making her a director's dream.
Bottom-Line
A charming innocent face, a body dripping with sex, a little talent and plenty of oomph is an unbeatable combination. She was our jury's unanimous choice for the #1 spot as the top actress of 2001.
Mon, Dec 31, 2001

Biography 2
(Source : www.thebharat.com )
When Jaya Bachchan saw this pretty young thing, she immediately called her for a screen test. That's how Tere Mere Sapne happened to Simran.
The film was released amid much hype, as it was the first production of Amitabh Bachchan's prestigious ABCL banner. For a while, it seemed there would be no looking back for the hot starlet. But Tere Mere Sapne didn't fare very well at the box office. And Simran was left out in the cold by Bollywood.
Soon, Simran became part of the heroine exodus from Mumbai to the South. The turnabout in her prospect started sometime then. Her first Tamil film, Once More, had a heavy star cast with the Thespian Sivaji Ganesan and current rage Vijay playing key roles. But Simran, with mini skirts hugging her svelte frame and an impish smile adorning her face, immediately gained attention. So much so, she had become a rage even before the film released, solely on the merit of her appearance in the film's TV promos.
But it was only with VIP that Simran actually came into the limelight properly. VIP, starring Rambha, Prabhu Deva and Abbas, created the image that would make Simran a star the hottest sex symbol in town.
By the time that Mani Rathnam spotted her for Nerukku Ner, Simran was a star in her own right. She was practically on every Tamil magazine cover, thanks largely to the stunning and revealing costumes she wore for photo sessions.
The siren tag has stood Simran in good stead. She has had a phenomenal number of hits to her credit in a short span of time: Kannethere Thondrinal with Prashanth, Thullatha Manamum Thullam with Vijay, Aval Varuvala and Vaali with Ajith are just a few examples.
Though most of her hits have been love stories, Simran was not used just as a sex symbol. Rather, luckily for her, these films gave Simran ample scope to emote and show her range as an actress.
Off-screen, Simran is a home-loving Punjabi girl, who loves to make friends with people, go shopping and cook "nice Punjabi food" for friends. She is extremely popular in the building she lives in and her neighbours describe her as the "simple Punjabi girl with her head firmly fixed on her shoulders, without any starry airs".
Simran is practical enough to realize that her popularity is not a permanent thing and says that she will exit from films the day she feels it's time to do so. But first, she wants to do a few memorable roles that will help her stay forever embedded in the minds of the Tamil audience.
Simran has acted in a couple of Malayalam films, too. She has also done a Kannada film opposite Shivraj Kumar. Her fair skin, sharp features and pleasing personality has attracted Telugu audience, too. She starred with Suman Ranganathan in her debut Telugu film, Abbayigar Pelli.
Since then, she has acted with all the leading Telugu stars such as Venkatesh, Nagarjuna, Balakrishna and Mohan Babu. Simran has also done a song sequence with Chiranjeevi in Annayya. With plenty of talent and glamour, Simran is a deadly combo all right. Her new films like Kalasi Undaam Raa, Nuvvu Vastavani, Yuvaraju and Annayya are all running to packed houses. Clearly, Simran is here to stay.
Biography - 3
Whoever it may be, those who happen to see this beauty queen Simran could never resist the temptation of recalling at the depth of their hearts the sweet song-lines: "Manam Virumbuthe Unnai"! Such is the heart-throbbing power of this dream girl Simran who now decorates modern Tamil screen! The stunning beauty of her physical 'structure' has swayed the hearts of so many lakhs of people who live scattered all over India, their age level in terms of years varying from 5 to 75! In her lightning-speed-dance-movements she looks like a computer-designed sculpture! A glamorous physique as if sculpted with unmistakable measurements! The beauty of her eyes show us the route to the unlimited vastness of enchanting pleasures!
In her good old student days, she was studying her B.Com. in a college in Mumbai. In those days her collegemates used to tell her rather jokingly but frequently, "You are so beautiful that if you enter into film-acting you could earn crores and crores of rupees!" Simran who was taking these words only as witty felicitations that were showered upon her by her well-wishing and good-hearted friends, didn't foresee then that one day would come when she would reach the peak of fame as the leading heroine of Tamil filmfield.! But the one wish she was always cherishing within her inner heart was that she must certainly become a filmstar one day or other.
After finishing college studies Simran entered into modelling profession! Only then her innate potentials for acting came to be known to the outer world! It was then that the first chance for acting in a Hindi film came her way! Saavankumar directed Simran's first picture. But it didn't run well. Again Simran returned back to modelling profession! Only at this juncture Amitab Buchchan happened to see her. She was selected as the announcer for the Miss World Beauty Contest!
When Amitab selected newface artists for a film produced by his A.B.C.L. company, Simran also got selected. Subsequently, she became popular through the Hindi film "Therae, Merae Sapne". At this time she got booked in the Tamil film, "Siragukal Murivathillai" which was about to be directed by Bharathi Raja. But due to some unexpected developments, she happened to withdraw from it.
Next, she was instantaneously signed for the following three films: "Oncemore" directed by S.A.Chandrasekaran, "V.I.P", produced by 'Kalaippuli' S.Thanu and "Nerukku Ner", directed by Vasanth. Some people ridiculed her saying, "Intha ponnukku nadippe varaathu" (this girl can never perform well)! Some others criticised her saying, "Ithellam oru azhagaa?" (is this a beauty of bearable nature?)! After her undergoing all such painful experiences, the two films viz: "Oncemore" and "Nerukku Ner" earned her enviable popularity from all quarters! "V.I.P." got her one more positive image of a good dancer! Subsequent successes and her varsatile glamour get-ups in films soon elevated her to the 1st rank position among Tamil film heroines.
Apart from Tamil, she acts in Hindi, Telugu, Marathi and Punjabi language films too!
Simran's father Ashok Naval, mother, younger brother Baba and sisters Monal and Jothi live in Mumbai. Whenever there's no film shooting in Chennai, she flies to Mumbai and stays with her family. She's a very good cook too, especially an expert in cooking non-vegetarian food items!