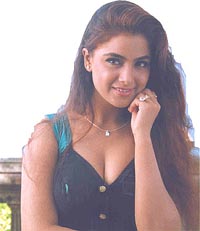 Scanty costumes and Jim Carey smile won her the fan-following of the young and the buck-toothed old as well.
Gyrating seductress Simran could send any teenager swoon over her, for she is blessed with a lithesome figure, puckish smile and a maddening carriage. Her whole demeanour exudes friendliness and warmth. She is unmistakably the reigning bitch-goddess of Tamil cinema. It was the Badshah of Bollywood Amitabh Bachchan, who brought her to films with his "Tere Mere Sapne", but the film failed to score on the box-office front. In spite of that non-starter, Simran has become a topnotch actress by her sheer dint of hard work and inborn professionalism. Those traits speak volumes in her favour.
While still at college, she is said to have performed on stage regularly and to her credit goes the compering of the then popular "Superhit Muqabala". Watching her on screen, Jaya Bachchan got convinced that this girl might go miles in movies. Nothing earth-shattering happened with the release of her first movie, but then, she was shrewd enough to grab offers from the south. "Once More" is her debut film in Tamil that gave her a lot more in terms of identity.
"Apparel oft proclaims the man", says Shakespeare; it proclaims the woman in a better way. Scanty costumes and Jim Carrey smile won the long-legged Simran a huge fan following, consisting of the young and the buck-toothed old as well. Like other film birds of the same feather she migrated to Chennai in search of a film-breeding sight and found the congenial Kollywood. She went for a signing spree of films. And the fans on their part lapped up greedily all that was out in theatres, starring sex-goddess Simran.
In "Once More" she was flanked by thespian Sivaji Ganesan on one side and the hot cake Vijay on the other. Film mags started gossiping about the new- find, the moment she was signed in for the project. Kalaipulai Dhanu cast her in "VIP" and the well-choreographed song numbers in the film 'Minnal oru kodi" implanted her dancing image in every film buff's heart. Practically, Simran had become a star in her own right, long before Mani Ratnam booked her for his own banner in "Nerukku Ner". She is much of a photographer's delight, for she is ready to spend any amount of time for the sake of a stunning photograph.
Her recent hits include "Kannethere Thondrinal" with Prashanth, "Thullatha Manamum Thullam" with Vijay, "Aval Varuvala" and "Vaali" with Ajith, "Parthen Rasithen" with Prashanth again. Simran proved her acting mettle in all these films. Her fans are reminded that she is not an attractive body alone, but is also endowed with an aspiring soul. Not just a sex-symbol, she can be a soul-mate as well.
In a male dominated film industry, it is pretty hard for heroines to get meaty roles. Simran not only managed to get meaty roles but also won plaudits from the film pundits. Her performance in "Vaali" was particularly praised by one and all. "Thullatha Manamum Thullum" came in for high praise, for Simran exactly looked her part as a love-lorn district collector, searching for the one man who had helped her when she was rendered blind by a freak accident.
This home-loving Punjabi lass is very friendly in nature. She loves to make friends, go shopping and cook a nice Punjabi dinner for her close friends. She is thoroughly aware of the transient nature of fame and popularity; so she takes things easily and she doesn't put on unnecessary airs. Call her a cool, cool cat.
Reigning queen of Mollywood, Simran, who has essayed a wide range of histrionically demanding roles, is trying her hand at action movies for a change.
Flush from her success in Mani Ratnams Kannathil Mujthamittal, in which she is the mother of three children, Simran plays a bandit in her new film titled Kovilpatti Veeralakshmi.
The protagonist of the film, an oppressed Dalit woman, is forced to take up the gun to avenge her humiliation at the hands of upper class village chieftains, who subject her to brutal rape.
While ace cinematographer Ashok Kumar will wield the camera, K. Rajeshwar takes care of the story, screenplay, lyrics and direction.
The music director is Aadityan, whose last bandit film was 'Sivalaperi Pandi'. Such is the confidence a Simran film inspires these days that distributors are vying with each other to snap it up, according to the grapevine.
Coca Cola ropes in Simran to add fizz to Fanta

06th Feb 2002 19.01 IST
(Source : www.apunkachoice.com )
Jyothikas despair is Simrans delight. The news is that top Tamil film heroine has been signed up by the Coca Cola India to add fizz to its Fanta.
Rumours doing the rounds have it that Simran has been offered a cool Rs 50 lakh for endorsing the brand for a year.
The news must have come as a damper to Jyothika, who had set her heart on doing the ad. She had appeared in a Coca Cola ad along with Aamir Khan earlier.
Simran scored over Jyothika as she is currently the more saleable of the two stars. Simran is riding the roller-coaster with her NarasimhaNaidu which has become an all-time hit in the Telugu film world. Her recent movie Pammal K Sambandham is also doing extremely well.
Jyothikas record suffers in comparison. The girl has been getting the cold shoulder because of what producers and co-stars called her high and mighty attitude.
The ad film will be made by Rajeev Menons wife, Lata Menon, while Sankar-Ehsan and Loy will compose the music.
Top Tamil film heroine Simran is back in circulation, silencing her critics who had churned out stories about her impending retirement.
Forget about retirement, the lissome lass is going strong. The beautiful actress has bagged two prestigious projects against top directors, K. Balachander and Maniratnam.
Balachander has signed her up for his 100th film Parvasamin which her co-star is popular Tamil actor, Madhavan.
The former glam doll of Mollywood, who is now intent on doing serious roles, is playing a complex character in Maniratnams yet to be titled movie. This film also has Madhavan in the male lead role.
So, Simran is having the last laugh as it were, having effectively scotched rumors about her retirement.
Mollywoods top heroine Simran has decided to go in for a major image makeover. The actress will no more accept roles that require her to expose.
What prompted her to take the decision is not known. But, at her recent press conference in Chennai, Simran said she would hereafter concentrate on roles that test her acting prowess.
For instance, in her latest film 12B she is essaying a totally non-glamorous role, leaving the glam doll job to reel rival, Jyotika.
Grapevine attributes Simrans decision to the advice of boy friend Raju Sundaram.
She said she had also signed up for an English film Devadasis 1930, which will feature one more heroine.
A sulking Simran recently took the media to task for indulging in sensation-mongering at her cost.
The grapevine had been abuzz with rumors that Simran is suffering from a secret disease and that she had called it quits.
An aggrieved Simran had done the vanishing trick, lending further credence to the spate of rumors doing the rounds.
Fed up with the rumor-mongering being indulged in by a hostile media, the siren of the Tamil film world decided to take the media personnel head on.
The actress called a press conference recently to put things in proper perspective. It was a no-holds-barred encounter in which no quarter was asked for and none given. The questions came thick and fast. The answers came equally fast and crisp from the angry actress.
In reply to a question, Simran denied that she was suffering from any secret disease as had been made out by the media or that she was calling it quits.
The glamour girl of south Indian screen also rejected reports that she had split up with her boy friend Raja Sundaram. They were very much in love and would get married with your full knowledge, the talented actress told the media persons.
It all seems to have ended with Simran promising to keep in touch with the media and the latter assuring her of better coverage.
The glamour queen of Mollywood Simran is all set to act in a Malayalam film, this time to help her one-time benefactor.
Simran had acted in a Malayalam film a few years ago. But the film titled Indraprastham and directed by Haridas sank without a trace. Reigning Malayalam superstar Mammootty was her hero in the film.
The grapevine has it that director Haridas, who has fallen on lean days, is keen on making a film with Simran in the female lead. A grateful Simran is said to have readily obliged Haridas, who was one of the few directors who stood by her in difficult times.
Although her first Malayalam film bombed, her performance in the film was noticed by Tamil film directors, which ultimately helped Simran to rise to the top in Mollywood.