In this page
Interviews
Interview
(Source : www.fun23.com)
She is the great screen sizzler, who came to the big screen with a debut in the Hindi film Tere Mere Sapne, the first film to be produced by Amitabh Bachans A.B.C.L. film production unit. Then came producer S. Dhanus V.I.P. with Prabhu Deva and Simran has never looked back since. The dream girl who gives sleepless nights to her young fans, holds the enviable position of being the number one actress here today. In her earlier films Simran was the glamour puss men loved to fantasise about. But today she is an actress to reckon with too. In her recent films like Vaali, Thullada Manamum Thullum and Kannupada Poguthayya, Simran has proved that she can act too if given a chance. That is why like Kushbhu, unlike the other actresses from Bombay who never managed to find a permanent place here, she managed to stay on. We met her for a tete-a-tete and the actress was frank and outspoken in her answers.
Q: In your earlier films you were just a glamour doll. But in some of your recent films, havent you taken on some performance-oriented roles?
Simran: In my debut Tamil film V.I.P., I had a role that called for a lot of glamour. The film was a success and I was flooded with similar kinds of roles. Nerukku Ner, Once More, Aval Varuvala, Natpukkaga, Kannethire Thondrinal, were film where I had just to look good. But then, came films like Thullatha Manamum Thullum, Vaali and Kannupada Poguthayya where I had scope to perform too. And I proved that I could act if given a chance. Unless we actresses are given performance-oriented roles, how can we be expected to display out talent? But I personally feel, that an actress may be talented, but her glamour is one sure way to attract a fan following. Youngsters of today want the actresses to look attractive and glamorous on the screen. I have got a faithful fan following. So, now I concentrate on films that give me scope to act too.
Q: There is an allegation against you, that you accept every film offered to you, collect an advance payment from the producers, but do not stick to your commitment. Comment.
Simran: First of all I do not accept every film offered to me. Only if I find the banner, the director, and my character to my liking, do I accept a film. Then I should have sufficient dates to give them too. I deny outright that I back out of my commitments and the call sheet I have given them with my dates. I have not cheated anybody to date. There are some producers (I dont wish to name them) who due to their own problems have not made use of the dates I have given them. They come to me later asking for the dates that I have already committed to another producer. Should I have obliged them then? It has happened a few times, but am I to be held responsible for it? They are trying to blame me for their inadequacies. I have not given any problem to any producer regarding my call-sheets. If that were the case would I be acting in so many films?
Q: You did a solo dance number in the film Ethirum Puthirum. It was your closeness to Raju Sundaram that made you accept it. What have you to say to this allegation?
Simran: There is a lot of gossip being written about Raju Sundaram and me. But none of them is true. He was the dance choreographer for some of my films. Its true that I developed a friendship with him. But to label it love, romance, etc., is like cheapening the relationship. I relate to him as a good friend, thats all. I have so many men friends in the industry. Those who know me well know about this too. I did that solo number in Ethirum Puthirum because the producer asked me to. Most heroines these days do solo dance number in films, and I am no exception. But to say that I accepted it on Raju Sundarams recommendation is wrong. Anyway I am not much bothered when the media links me with Raju Sundaram. That too is a publicity of sorts for me, isnt it?
Q: After Tere Mere Sapne one never saw you in many Hindi films, why?
Simran: I did get some offers after Tere Mere Sapne but none of them were exciting ones. During that time I got this offer to act in a Tamil film. My first film became a success, and I was considered a lucky actress. The audience here accepted me. Then I became busy in Tamil and Telegu films and could not find much time for Hindi films. Further, for the time one gives to a single Hindi film, one can complete three Tamil films. I like the way the industry works here and I am quite comfortable. So, I continue to act here. Its not important how many films I act but its important that I find a permanent place in the hearts of my fans.
Q: What are your plans for the millennium?
Simran: First of all let me wish everyone a happy, prosperous, peaceful New Year. I wish the cinema industry would free itself of all the problems it is beset with. Video piracy should be wiped out and we need the co-operation of everyone for this. For, thousands of families depend on this industry for their survival. If films do not run, the producers suffer financial losses. There are more unsuccessful than successful films these days. Many producers have dropped out because of this and it does affect the many families who are dependent on the industry. This should change soon. The industry needs the co-operation of the government and the common man, if it is to survive in a healthy manner. My personal desire is that I should act in more roles that give me scope to reveal my talent, and that I should get both the State and the National award. I want to be accepted not just as an actress who is glamorous, but also one who can deliver the goods when given the chance. I want to do more roles that would test my calibre. This is my plan for the millennium. And for this I need the blessing and the cooperation of everyone.
Simply Simran
You must have seen her smouldering in Vaali, literally crackling the screen with her presence. Meet the sexy Simran...
She might have captured the top slot by default, but nobody's complaining. For this Punjabi simply sizzles on screen. Check her out in 'Vaali' and you know what we mean. Be it writhing sensuously for the inspired tunes of Deva 'Vaanil' (in fact, a straight lift of Lionel Richie's 'Now you' re gone') or emoting, she does it with panache.
She may be effervescent on screen, but the first thing that strikes you when you meet Simran in person is her shyness. Without lifting her eyes, she tirelessly signs autographs. Ask her something and she draws in to her shell. Bitter experiences have taught her to be cautious and weigh what she utters, she tells you later.
Much later.Once you convince her that you are not there to malign her reputation. And what a transformation that is! She argues, cajoles and defends with her arms flaying and eyes sparkling, to convey her point.
A Commerce graduate from Mithibai College in Mumbai, this 23 year old Arian has adapted to her surroundings quite admirably, conversing fluently in Tamil. She claims that at college, she was a nobody. But today, sitting there before you, the lady oozes oomph. And confidence.
She tripped into the fantasy world by accident, shattering the girl-next-door image and surprising even herself. She discovered that not only does she love facing the camera, her sensuousness and exuberance on screen also has her audiences swooning. And to think, if not for her anchoring days in Door Darshan (for Super Hit Muqabla), she would not have been here today! The aura of her screen presence was strong enough to catch the attention of Jaya Bachan and 'Tera Mere Sapna' happened.
"I never had to face any difficulty. It all happened so soon. There I was, barely 19 years old and thrilled at the prospect of earning more pocket money. And before I realised, I landed with movie offers." Though 'Tere Mere Sapna' did not win her instant stardom, it was her passport to fame. She made people sit up with her performance and her graceful dance movements (the famous ' Ankh Mare' topped the charts besides winning her accolades).
After that there was no looking back for this woman with the winsome smile. She realised that if Hindi cinema is her passport, the South can bring her stardom. Courtesy: Khushboo and her super success. So she trudged to Chennai and camped at Residency. Her gamble paid off. Before long, she got a plum role in VIP, co- staring Prabhu Deva, Abbas and Ramba. And having gained a foothold, she diligently wormed her way to the top slot.
Now that she has made a name for herself, she would like to do more meaningful roles, she tells you. But her idea of meaningful roles does not necessarily mean characters that will kick up a cloud of controversy, like Sita or Neeta in 'Fire'. Infact, she firmly believes that certain taboo subjects should not be explored.
And what's fun according to her? " Hanging out with my friends at shopping malls. " Her friends, of course, are from her B.Com days and not definitely from the filmi world. " It is hard to trust anyone completely here. Without trusting them how can you be friends?"
Warming up to the idea of discussing her friends and family, she relates bits and pieces, giggling uncontrollably, on how she and her sister Mona play pranks on her unsuspecting fans. When she wants to evade autograph hunters, she ventures out without make-up. On one such occasion, her sister accompanying her, was mistaken for her. Left on her own, she says, she would have set things right immediately. But giving in to her sister's demand, Simran played a mute spectator, while people were fawning all over her sister. "Gosh, you should have seen their expression when we finally confessed!"
And yes, she is still her mama's baby and like the proverbial lamb, her mother follows her everywhere. Getting defensive, Simran says that her mother accompanies her only because she insists and is not the other way round. "You don't expect me to sit all alone the whole day? My mother accompanies me not because I am scared about the roving wolves in the industry or that I am being haughty, but to give me company."
Aware that the media can make or mar her career, Simran says that she shares a love - hate relationship with them. "Sometimes, it irritates me when I see statements that I never made, making headlines."
And like anyone else, she has to pay a price, although grudgingly, for her fame - her privacy. "People should realise that my life is nobody's business but mine," she retorts. Try telling her that nothing comes for free and she is still sceptical.
All I want to do is lead a peaceful life, doing justice to my work and get married when it becomes boring," she tells you reflectively, mulling over what you told her. Hey! Take heart guys! She said only when she was bored. And by the look of things, it is not going to happen for at least another three years. Till then, she is too busy to even breathe!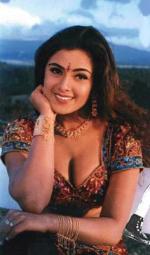 Frail and sensitive one moment, strong and steel-like the next, this svelte beauty from Mumbai is indeed intriguing. Simran is a name to contend with in the cinema of the South today. And meeting this busy star is not easy... or that's what you think. But just a call and she asks you to come over.
Apollo Hospitals, Chennai, has a glamorous glow that day. Director Mouli is busy getting things in order for the shot. You pass the wires, lights, people and the camera, and enter Simran's room. Lounging on the cot, a calm and cool Simran welcomes you.
The shooting for Pammal K. Sambandham, is on. Her first film with Kamal Hassan.
Simran lives in Chennai now. But it all began in Mumbai, with DD Metro. Simran then was the attractive anchor of the popular Superhit Muqabla show on television. Amitabh Bachchan's famed Corporation was looking out for a new heroine for its Tere Mere Sapne.
"Jaya Bachchan called me for a screen test and I was selected. I came to know that many faces were tried before mine was chosen,'' Simran says simply.
This simplicity and lack of affectation are what strike you most about Simran. No big talk. No airs.
Tere Mere Sapne came and went. But Simran who had come down South for the shoot stayed back. It was undoubtedly regional cinema's gain. The ``Aankh Maare...'' girl had arrived... in the South.
"I stayed back because I was offered a Malayalam film with Mammootty, which I accepted,'' she explains. The film was Indraprastham which was later dubbed in Tamil as Delhi Durbar.
What is this Mumbai girl's impression of the city that has adopted her? ``I have not settled down here... but yes, I like Chennai a lot... its atmosphere, its people... they are conservative and very simple, the place is very peaceful... and of course, the delicious dosas and idlis...,'' she flashes the ravishing Simran smile.
But the smile vanishes and seriousness sets in, when the topic shifts to the gossip columns and the calumny they inflict on actors and actresses. ``We are human too... it is so unfair particularly when most of us are quite accessible. Why don't they talk to us before putting things in print? Such mudslinging will get people nowhere.'' The wrath is evident and the hurt shows.
In between receiving calls, changing for her shot and giving instructions, Simran comes out with views that are forthright and counters that are effective.
Even as she was working for the Malayalam film, director Vasanth approached her for Nerukku Ner, with Surya. Soon Simran was working in a host of Tamil films VIP, Poochudavaa, Once More the list became endless and Simran continues to be a busy star till date.
Since Valee proved Simran's mettle as an actress, the roles that come her way have all been performance oriented... ``And I intend keeping it that way. Every role I am doing now is different. In Pammal K. Sambandham I am doing comedy for the first time and I realise I have a flair for it. K. Balachander's Paarthalae Paravasam again is different and so is Maniratnam's Kannathil Mutham Ittal... with Madhavan."
I Love You Da will see Simran paired with Raju Sundaram. The subject is match fixing.
She is thrilled to be working with veterans like Kamal Hassan, K. Balachander and Mani Ratnam. ``Everyday I learn something,'' she says.
The topic moves on to her directors. ``Each one of them is talented and working with them and their units have been enriching experiences... K. Balachander is like a school principal... and with him I learn 10 new expressions in a day."
What about his much talked-about temper? ``It could have been there earlier. I have also heard about it. Now he is very cool and his energy stuns me. During a shoot which lasts from 7 a.m. to 10 p.m., the man is absolutely energetic throughout, while Madhavan, me and others are fagged out. He is such an inspiration...,'' the paeans go on. Such drive and zest she sees in Maniratnam also.
The only other big hero Simran has not worked with so far is Rajnikanth. ``See... he does a film once in two years. But still I'll be glad if I get a chance to work with him."
"He is so elastic, like a rubber band'' she laughs while talking about Prabhu Deva, her co-star in VIP and Time. ``I had seen Hum Se Hai Muqabla (the Hindi vrersion of Kadhalan) four times and was blown over by his dance movements. Imagine my surprise when I heard he was waiting outside my room to meet me regarding VIP. Dance seems to fascinate the actress. Simran herself comes across as an extremely graceful dancer. ``Yes...I am very interested in dance, though I am not formally trained in it. I've taken part in dance competitions in school and college and won prizes.''


Sitting on the cot in a casual pair of trousers for a while and then returning to talk in a navy blue mangalgiri churidhar, the attire for the next shot, Simran looked simply beautiful. Simran compliments Vasanth, her director in ``Naerukku Naer'' as one who ``can make his artistes act" .
When director S. J. Surya, first met her for Valee she did not even think he was a director. ``He is so simple, yet so talented. He was constantly encouraging me. In fact it was a very good team as a whole.''
"People here are a hardworking lot,'' feels Simran. ``And I fit in here very well, basically because I love hard work".
The first Tamil film Simran watched was Kamal Hassan's Avvai Sanmughi. The language was very new and hence very tough initially. But today she's quite fluent in it. ``I did not employ a tutor. Instead I saw to it that all my assistants spoke to me in Tamil. I learnt around four words a day. But the best thing is, here even the panwallah and rickshawallah can understand English?''
Simran never wrote out her dialogue in Hindi even at the beginning. She took the help of a prompter then... and now she doesn't need prompting either.
"I want to begin dubbing for myself soon.. let's see..." _ naturally, because in any acting performance the voice plays an essential role. Simran feels it is important all right, but the body language, facial expressions and appearance would make 80 per cent and the voice does the rest. ``Savitha and Saritha have been dubbing for me. And if you notice, the range of my voice and theirs is similar. So I feel their dubbing suits me to a T.''
Simran is carving a definite niche for herself in the Telugu cinema scene today. She has acted in around 15 Telugu films. Her histrionic capabilities come to the fore in the recently released Telugu film Daddy, in which she is paired with Chiranjeevi. As the young, agonised mother who loses her child, the trauma, and its culmination in righteous anger have been convincingly portrayed by Simran in Daddy, directed by Suresh Krishna. "Yes... I cannot do the run-of-the-mill roles anymore. I need well-defined characters which give me a chance to perform. Kamal Hassan is my greatest inspiration in this aspect".
True... Kamal too had to accept purely commercial films till he gained a foothold. After that mere formula films were not for him. Each role has been a different experiment. But in an industry which is entirely male dominated, what variety in characterisation can an actress expect? ``Yeah... there are limitations, I agree. But even so I like to do a variety of characters.''
The conversation naturally shifts to Paarthein Rasithein. Simran played the shrewd, conniving, jealous girl who wanted to marry the man she loved at any cost. A very powerful role to which the actress did ample justice. It is films like Valee, Paarthein Rasithein and Thullatha Manamum Thullum that proved that the girl is not just a glamour doll, but an actress with tremendous talent. ``Nandita Das was also to be in Paartherin Rasithein . It was a two-heroine subject and I was asked to choose the role I wanted. I chose the negative one and it paid off. And about films like Time ... there isn't much to say.''
Simran is multi-lingual in every sense. She has done a Kannada film too Simhada Mari.
With plaudits from fans and friends, the actress must be quite satisfied seeing herself on screen. ``No... when I see myself, I notice only the faults" , she says with a smile.
She is the friendly, loving sister, when she waxes eloquent on her sibling's talent. ``Monal is a very good dancer and she's beautiful. Her first Hindi film Maa Tujhe Salaam is to be released soon... and she is very much younger to me.'' The last point has to be reiterated because there are those who feel Monal looks older than Simran.'' The other sister, Jyothi, is in Mumbai studying. ``We are a close-knit family mom, dad, brother, sisters...''
A confident Simran fields all the queries with elan. She has come a long way and is all set to make bigger strides.
Tue, Nov 20, 2001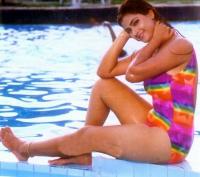 Interview
Actress Simran has answered the questions of 'Dinakaran' reporter. The details:
Question: In all your interviews, only you have stated that you are going to marry Raju Sundaram. But your lover doesn't open his mouth at all. Why?
Answer: I would prefer to avoid answering this question. Already, a lot has been written by you about our love affair. There's nothing more to tell about it.
Question: Then what about your marriage?
Answer: Some kind of boredom has crept in, by keeping on answering this question! Ask some other question.
Question: It does seem that nowadays you are committing in more number of films...Is it so?
Answer: Yes. I'm going to settle down in Tamilnadu. Getting out from the rented house in Chennai, I'm about to settle down in a house, which is to be purchased by me at Kottivakkam, Chennai.
In Tamil, "Pammal K.Sambandam", directed by Mauli and in which I have paired with Kamalhassan has already been released. The other Tamil films I'm now doing are: "Udhaya" with Vijay, "Thamizh" with Prashanth, "Pop Corn" with Mohanlal, a new film acted and directed by Parthiban,"Kannaththil Muththamittaal" with Madhavan, which is being directed by Mani Ratnam and "I Love You Daa", with Raju Sundaram. In Telugu, I do "Seema Simmam", with Balakrishna, directed by Ramprasad. In English I act in "Devadhaasi 1930".
Question: About your experience of acting in Mani Ratnam's direction?
Answer: My acting in his direction in "KannaththilMuththamittaal" is an unforgettable experience. I was able to feel a lot of difference between acting in his direction and doing so under the direction of other film directors. Mani Ratnam has made me act quite naturally, myself putting on no make-up at all for the total film, and I'm having one and the same hair-style throughout. He won't talk much while conducting shooting. But the film he creates evokes greater response among the audience! I have acted in this film in the role of a newsreader. Parthiban's daughter Geerthana, who has acted as my daughetr has given out a stupendous performance. Suhasini appreciated me when she saw the 'rush' of this film.
Question: There appeared a news item in a particular journal, which stated that you were looking very sad while at the shooting spot, where Kamalhassan was there with you and only he pacified you and so on...Is it so?
Answer: Many people write lie as though it's true.
Is it possible to answer them all? You yourself could inquire about it....People would say how happily I was participating in the shooting of "Pammal K.Sambandham". Once we enter the shooting venue, we should forget our personal grievances.
In "Pammal K.Sambandham", I have acted in a role which is saturated with such a comedy mix. For the first time, I have played such a role. Kamal sir is a great actor. During each and every time of my acting with him for the film, I was able to learn new lessons. As the whole film abounds in comedy, there's no chance of my sitting melancholic at the shooting spot.....You may understand this.
Question: You, who got advance for Ramba's "Three Roses", is said to have insulted her afterwards, without giving your callsheet...Is it true?
Answer: Ramba's brother Vasu asked my callsheet for "Three Roses". Then he narrated the story. But that didn't suit me. But, he was going on insisting that only I should act in a role in it. I explained to him that there was no chance of allotting my callsheets from October onwards. Yet, he was adamant in getting my commitment.
I was in Mumbai on August 4. I returned to Hydrabad the same day, by air. On 5th, the photo session for "Three Roses" took place in Mumbai. How could I, who was then in Hydrabad, come to attend the photo session of the film in which I hadn't been committed at all? Or, why should I attend it?
I didn't receive any 'cheque' regarding advance for acting in that film. Ramba is a senior artiste. I respect her very much. I have never insulted her in any circumstance. Even while working for the film, "V.I.P.", I showed her due respect. Hereafter, don't ask me any question relating to "Three Roses".
Simran has answered thus.