In this page...
Interviews......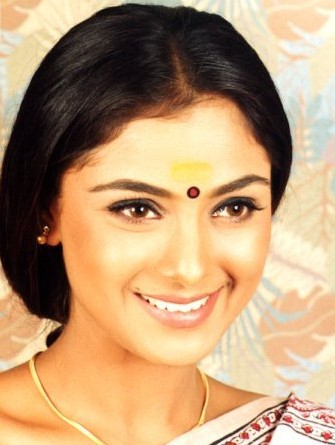 Interview:
Simran Speaks Out Her Mind
Actress Simran has spoken out her mind by way of giving interesting answers to searching questions. The same has been published in "Dinakaran" Tamil Daily Newspaper. The details:
Question: In all your interviews to magazines and news papers you have spoken only about your marriage. Why?
Answer: All the journalists who met me in the recent past have asked me only about my marriage! They seem to think that only my marriage news is the utmost need of the hour to the entire world! But I have told about it in a clear-cut manner...My would-be husband is only Rajusundaram. There needn't be any doubt about it. As there are so many film commitments both for him and me, we are obliged to complete all those works.
In "I Love You Daa", he and I are teaming together as love pair. Apart from it he has got an offer to direct an Hindi film. I too am acting in more than 10 films which include both Tamil and Telugu films. As there have been so many work commitments, definitely our marriage won't take place this year. We would start discussing about our marriage only when we become free. Our marriage that will take place when it will, won't be a secret affair but will be publicly held function. I will invite you people also. Believe me!
Question: Your are simultaneously acting in K.Balachander's and in Maniratnam's direction. Tell about that experience?
Answer: I must say I'm very fortunate to have such an opportunity. K.Balachander sir is a very great director. I feel proud to act in "PaarththaalaeParavasam", which is his 100th film. I have acted showing so many expressions on my face, which expressions I hadn't tried in my other films so far. It would be most fitting if I say it's an opportunity given to me to add more polish to my acting talent! I have stood astonished on many occasions having seen Mairatnam sir's films! It has come to be a new experience to act in "Kannaththil Muththamittaal", being directed by him. Soon the shooting work of "Pammal K. Sampantham" would start. In it I'm pairing with Kamalhassan sir for the first time. Specifically speaking, I must say that this year is a very, very lucky one for me. My character role in "Paarththaalae Paravasam", "Kannaththil Muththamittaal", "Pammal K.Sampantham", "12 B", "Thamizh", "Udhaya", "I Love You Daa" and "Aathi", differs from film to film.
Question: Though you are a cine actress, basically you are a girl. There are countless criticisms about you....How do you bear all those things?
Answer: In the beginning I used sitting alone recollecting the adverse comments that had appeared in the print media. Nowadays I neither read such material nor lend my ears to those who bring such matters to my notice. Only the daily challenges we face and the experiences we undergo teach us what life is! My family members and I fully know me. When the fact remains so, why should I worry regarding a few things written by some X and Y, whose designs God only knows? Now I have changed myself. I have understood to some extent who are the journalists who write fairly about me and who are all writing gossips by way of damaging me.

Interview:
Simran Speaks Out Her Mind
(Part-2) (June 22, 2001)

Part-2 of actress Simran's interview to 'Dinakaran' Tamil Daily Newspaper is as follows:
Question: They say that even now you are the leading actress in Telugu....What do you say?
Answer: If you ask such a question how can I answer you? Going to shooting daily and, after finishing my acting work, returning back to my house is the only job I'm doing. I don't know anything about whether I'm the No.1 actress or the No 2 ranking artiste....! Whether it be an actor or an actress, only when the artiste in question gets peoples' support, the particular actor or actress can succeed. All the fans who meet me praise my acting talent. That's the real felicitation. That's the status I have attained in cineworld.
Question: How many years, do you think, would you still act in films?
Answer: What answer could I tell when you ask me this?
There's God above us. We get what He decides! I never have told that I will continue to act until people start hating my films! Nor would I tell such a thing now! I wish to resign from cine world at a time when I'm at the peak of my popularity.
Question: Do you have plans to step into any new fields other than cinema?
Answer: No...I don't know anything other than acting.
Question: In what manner Simran would have got changed after marriage?
Answer: She would have changed to be a full-time housewife. The moment "Thaali" chain starts adoring my neck, I will say 'Good Bye' to acting.
I would change into an ordinary type of family girl and would take full care of my husband. I will give birth to a good many number of babies. I will run Beauty parlour. There are plans to start a small clinic. I will also establish and run a children's school!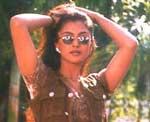 Simran - Face to face
(December 25, 1999)
She is the great screen sizzler, who came to the big screen with a debut in the Hindi film Tere Mere Sapne, the first film to be produced by Amitabh Bachans A.B.C.L. film production unit. Then came producer S. Dhanus V.I.P. with Prabhu Deva and Simran has never looked back since. The dream girl who gives sleepless nights to her young fans, holds the enviable position of being the number one actress here today. In her earlier films Simran was the glamour puss men loved to fantasise about. But today she is an actress to reckon with too. In her recent films like Vaali, Thullada Manamum Thullum and Kannupada Poguthayya, Simran has proved that she can act too if given a chance. That is why like Kushbhu, unlike the other actresses from Bombay who never managed to find a permanent place here, she managed to stay on. We met her for a tete-a-tete and the actress was frank and outspoken in her answers.
Q: In your earlier films you were just a glamour doll. But in some of your recent films, havent you taken on some performance-oriented roles?
Simran: In my debut Tamil film V.I.P., I had a role that called for a lot of glamour. The film was a success and I was flooded with similar kinds of roles. Nerukku Ner, Once More, Aval Varuvala, Natpukkaga, Kannethire Thondrinal, were film where I had just to look good. But then, came films like Thullatha Manamum Thullum, Vaali and Kannupada Poguthayya where I had scope to perform too. And I proved that I could act if given a chance. Unless we actresses are given performance-oriented roles, how can we be expected to display out talent? But I personally feel, that an actress may be talented, but her glamour is one sure way to attract a fan following. Youngsters of today want the actresses to look attractive and glamorous on the screen. I have got a faithful fan following. So, now I concentrate on films that give me scope to act too.
Q: There is an allegation against you, that you accept every film offered to you, collect an advance payment from the producers, but do not stick to your commitment. Comment.
Simran: First of all I do not accept every film offered to me. Only if I find the banner, the director, and my character to my liking, do I accept a film. Then I should have sufficient dates to give them too. I deny outright that I back out of my commitments and the call sheet I have given them with my dates. I have not cheated anybody to date. There are some producers (I dont wish to name them) who due to their own problems have not made use of the dates I have given them. They come to me later asking for the dates that I have already committed to another producer. Should I have obliged them then? It has happened a few times, but am I to be held responsible for it? They are trying to blame me for their inadequacies. I have not given any problem to any producer regarding my call-sheets. If that were the case would I be acting in so many films?
Q: You did a solo dance number in the film Ethirum Puthirum. It was your closeness to Raju Sundaram that made you accept it. What have you to say to this allegation?
Simran: There is a lot of gossip being written about Raju Sundaram and me. But none of them is true. He was the dance choreographer for some of my films. Its true that I developed a friendship with him. But to label it love, romance, etc., is like cheapening the relationship. I relate to him as a good friend, thats all. I have so many men friends in the industry. Those who know me well know about this too. I did that solo number in Ethirum Puthirum because the producer asked me to. Most heroines these days do solo dance number in films, and I am no exception. But to say that I accepted it on Raju Sundarams recommendation is wrong. Anyway I am not much bothered when the media links me with Raju Sundaram. That too is a publicity of sorts for me, isnt it?
Q: After Tere Mere Sapne one never saw you in many Hindi films, why?
Simran: I did get some offers after Tere Mere Sapne but none of them were exciting ones. During that time I got this offer to act in a Tamil film. My first film became a success, and I was considered a lucky actress. The audience here accepted me. Then I became busy in Tamil and Telegu films and could not find much time for Hindi films. Further, for the time one gives to a single Hindi film, one can complete three Tamil films. I like the way the industry works here and I am quite comfortable. So, I continue to act here. Its not important how many films I act but its important that I find a permanent place in the hearts of my fans.
Q: What are your plans for the coming millennium?
Simran: First of all let me wish everyone a happy, prosperous, peaceful New Year. I wish the cinema industry would free itself of all the problems it is beset with. Video piracy should be wiped out and we need the co-operation of everyone for this. For, thousands of families depend on this industry for their survival. If films do not run, the producers suffer financial losses. There are more unsuccessful than successful films these days. Many producers have dropped out because of this and it does affect the many families who are dependent on the industry. This should change soon. The industry needs the co-operation of the government and the common man, if it is to survive in a healthy manner. My personal desire is that I should act in more roles that give me scope to reveal my talent, and that I should get both the State and the National award. I want to be accepted not just as an actress who is glamorous, but also one who can deliver the goods when given the chance. I want to do more roles that would test my calibre. This is my plan for the millennium. And for this I need the blessing and the cooperation of everyone. I wish one and all a Happy New Year!
Interview
(Source : www.chennaionline.com)
(October 20, 2001)
She is in love with Raju Sundaram.
She breaks away with Raju Sundaram.
Raju - Simran in love despite pressures from their families.
Simran is getting married.
End of Raju - Simran relationship.
Simran is drunk and misbehaves in the airport.
Simran dismissed her manager.
Confusions galore in Simrans call sheets.
Blue film starring Simran.
Simran is afflicted with AIDS.
These are some of the cine headlines that appeared within a period of last three months. May be in the last 70 years of the history of Tamil cinema no other actress than Simran would have got embroiled in the rumour mill running around Kollywood. And finally Simran thought that she has had enough of it and called for a press meet last Sunday. No doubt she tried to remain calm and answer all the questions patiently. But she could not control her emotions completely. She smiled now and then and was angry many a time. However, she tried to remain and appear calm and collected. Here are the questions put to her and her answers to them.
Are you in love with Raju Sundaram?
When I get married I will certainly announce it well ahead of the date. It is only you, the press people, who have conducted my marriage several times in the past even before I got the scent of it.
Are you in love with Raju Sundaram or not?
Whoever be I am in love with. I will get married only after telling you all and inviting you all.
Is there any truth at all in the news items that appeared that you are in love with Raju Sundaram, or are they utter falsehood?
Yes. It is true that I am in love with him
When are you getting married?
It has not yet been decided.
But, only you have been speaking about being in love with Raju. He is not opening his mouth on this
Only he has to answer this question.
It is said that his mother has put a condition that you should not act in movies after the marriage and also that your mother has not agreed to this.
Nothing to this effect has happened.
Have your parents and Rajus parents spoken among themselves about your marriage?
No. My mother and his mother have not met as yet.
When the entire Tamil film industry participated in the funeral of Sivaji, you were missing. Why was it you were missing?
When I came to know of his death, I was in Hyderabad in a shooting. The circumstances did not permit the cancellation of the shooting immediately, to enable me to attend his funeral. And when I returned to Chennai, the funeral ceremonies were over by that time.
It was not only you. No actress from Mumbai in general, participated in the funeral.
I do not about others. I respect him very much. I have acted in the film Once more with him and I am proud of it. Please understand my situation. I could not attend the funeral because I was in a film shooting which could not be cancelled. This becomes an issue only if I was in Chennai and did not attend.
There have been scores of negative information about you for the past three months. What do you wish to say about them?
That I am in love with Raju is an old news. But I was very much affected by the one that said that I am afflicted with some disease. Just think of it. How will you all be affected if your own sister or wife is rumoured about in this manner? I am not suffering from any disease and I did not undergo treatment for anything whatsoever.
Then what could be the reason for the rumour mill to run so? Do you think that this may be the handiwork of managers who were working for you till recently?
May be. I am led to believe that. See, I appoint a manager only to look after my call sheet and receivables. I sent them out because they did not perform it properly. May be they were provoked by that and are spreading such rumours. But it would have been better if the press people checked them with me before publishing them.
But you are not accessible for us to do any verification
I have taken necessary action to see that it doesnt happen any more. Please check such items with me before publication.
The role you have played in 12B has neither been considerable nor impressive
That was the role given to me in the movie.
There was an announcement that you are acting in Three Roses. But later you were not in the movie. What happened?
I did not like the story. They are basing the movie on the English film, Charlie Angel. In the first instance, I was not impressed with the English movie itself. Thats the only reason for my not acting in Three Roses.
Are you playing the role of a liberation tiger in Kannathil Muthamittal, directed and produced by Mani Ratnam?
No I am not. I am playing the role of a TV newsreader. Nandita Das is playing that role.
What are the other movies in which you are acting now?
I Love You daa. This is a movie about cricket match fixing. Then, Paarthaale Paravasam by K. Balachander, Pammal K. Sambandham with Kamal, Tamil with Prashanth, Udhaya with Vijay, and another with Mohanlal - a Nassar movie.
Rehman is scoring music for Kannathil Muthamittal, Paarthaale Paravasam and Udhaya. The delay is due to the time that the music director takes. And then naturally some dates get postponed. In effect, it is Simran who becomes responsible for any delay and is blamed of bounced call sheets.
am acting in Telugu with Chiranjeevi, in Daddy and another with Balakrishna. I am acting in the Hindi remake of Thulladha manaum thullum. Apart from all this, I will be doing an English movie directed by Dura Savar. It is about the deva dasis who lived in 1930s. The film will be shot in Thanjavur.
What is the problem with your sister Monal? You are living in separate houses
There is absolutely no problem. She is living alone because she wants to. It is her liking. There is no problem in our family. Me, my sisters (apart from Monal there is another sister by name Jothi, who will soon make her entry into filmdom) and my brother Sumith are all amiable, loving and affectionate.
Simran finished the press meet and started for her shooting in New Zealand. (Of course, she did not pick up any quarrel in the airport!) She conveyed her best wishes for Deepavali to all her fans.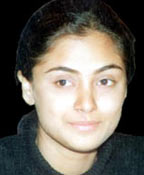 Something about Simran
As the picturisation of songs for Balakrishnas latest film Seema Simham goes on at a rapid pace, the leading lady of the film breezes through the song. The tall and willowy Simran, bright and sunny in a yellow dress, smiles her way through the song and continues to wear the smile as she talks to this reporter about her career, her future plans and rumours about her ill-health.
And stoutly denies the rumours, that were doing the rounds, about her impending marriage with the choreographer Raju Sundaram, a news that may very well warm the cockles of the hearts of her fans. Excerpts from the interview....
You have reached the number one position in such a short time. Arent you proud of your achievement?
Frankly, I dont keep tabs either on my position or somebody elses. Just go on working sincerely. Besides, even if I consider my position as number one, I think it is a very transitive. I may be here today. Tomorrow, it would be somebody else. It is a constantly changing scenario.
It is said that Soundarya's over-weight problem has come to your advantage. Her gain is apparently is your gain, too!
That is really uncharitable. And it makes me sound so selfish. Soundarya is a very good actress. She is pretty too. She must have worked so hard to reach the position she is in. I have learnt so much from her. And I think, if I put on weight tomorrow, you guys would get equally nasty about me.
You are in the top position. Yet, you have just one film - Seema Simham - on hand. Any particular reason?
I am quite busy with Tamil films right now. Apart from Mani Ratnams new film Amrita, I am doing films with Kamalhasan and Mohanlal. That is the reason I have not accepted too many Telugu films. May be Ill be able to tell you more next month.
Mani Ratnams Amrita is much awaited. What is your role in that film?
Oh! It is a wonderful project. I play the mother of a little girl in that film.
There has been criticism that these days you look rather uniform in all the songs, your costumes, that is?
This is the first time I am getting to know about it. In fact, lots of people in the industry tell me my costumes are good and even ask me where I bought them. You are saying something else. Anyway, I have to admit that there are certain clothes which are really comfortable. I prefer them, naturally.
What about the news that you are getting married to Raju Sundaram?
News? Its not news, it is a rumour. There is nobody in my mind now. I am focussing entirely on my career. I am getting good offers. And I have plans for my future. want to be popular and be known as a good actress. Marriage is not something on my agenda now.
There were also rumours in some web sites and Tamil magazines that you are unwell.
Here I am. You can see me. Do I look sick? I am well. I am even dancing happily. How can you believe the rumours. Tamil magazines have no other work except running down people. Telugu press is a hundred times better. They think twice before writing anything negative about anybody.
Your films with Balakrishna, Samarasimha Reddy and Narasimhanayudu were super hits. Now, Seema Simham is your third film with him. What do you think is making your pair a hit with the audiences?
Balakrishna selects very powerful scripts. And then, the combination of Paruchuri Brothers and B Gopal works really well. Ram Prasad, director of Seema Simham, is also from the same school. So, I am rather comfortable working with him.
Are the allegations against you regarding the production of Mrigaraju true?
Past is past. Why dig out old things? Leave them.
There is a youth trend in Tollywood now. Do you have any plans to work with new actors?
I consider the script as the most important element. As long as there is a good script, I am willing to work with anybody.
Which roles did you enjoy playing?
Vaali, Nuvvu Vasthaavani, Samarasimha Reddy - I had liked my roles in these films.
Any dream roles?
I am an artiste. Its my dream to play good roles. So far, I have no such dream roles. Lets see about future.

(Courtesy: Andhrabhoomi and Deccan Chronicle)