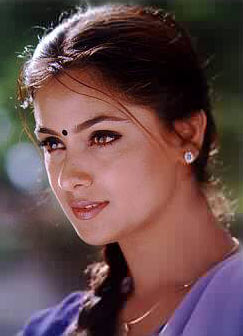 Simran: Red, blazing HOT!

January 23, 2002
With Mani Ratnam's new film Kannathil Muttam Ittaal, which opens February 1, Simran has joined the league of Tamil Nadu's most respected actresses. Not that she has left her glam doll days behind.
In her last release, Pammal K Sambandham [with Kamal Haasan], Simran is every bit the glamorous diva seducing the camera with looks that could kill.
The soft-spoken Simran can't believe her luck. Pammal K Sambandham is a raging hit. She is now doing another film with Kamal Haasan, the shooting of which begins next month: "I can't begin to tell you what an experience it was to work with Kamalji. He is much more than an actor or filmmaker. He is a legend.
"He was so encouraging. In New Zealand, I was scared to death about bungee jumping. But he made me do it. It was so much fun. He makes acting so entertaining."
Entertainment of another kind comes in her new release Kannathil Muttam Ittaal, where she plays Madhavan's wife and mother of three children. Simran recalls, "We would start work early morning and go on almost non-stop until 1900 hrs. Mani Ratnam's energy level is unbelievable. Anyone working with him is bound to be enthused into outdoing herself."
Simran is proud that Mani Ratnam allowed her a chance to dub her own lines in Kannathil Muttam Ittaal even though someone else did the needful -- Simran couldn't get the accent right. The Punjabi girl from Mumbai who started her career with a role in the Hindi film, Tere Mere Sapne, is quick to point out she is fluent in Tamil and can rattle off sheets of dialogue on the sets.
After playing two antithetical roles in her two new films, Simran seems to have graduated to dramatic roles. Though she does see a change in her career after breezing across meaty roles in films by stalwarts like K Balachander, K Ravi Kumar and Mani Ratham, she is reluctant to leave her glamorous days behind. "I agree I am no longer considered for purely decorative roles. I have been around in the Tamil industry for five years. And it is now that I am getting roles that require me to show my talent. But yes, glamour is a very essential part of any actress' career."
Though she is open to Hindi films, Simran isn't running after them. She doesn't need to: "If I get something worthwhile, why not? But nothing that drags on for four years, please!" she shivers, drawing attention to Sanjay Gupta's Khauff, where her role had to be slashed because she couldn't go on sparing dates for years on end. "I think I'm much better off in the Tamil industry with its discipline. Offers from Hindi films have been coming in. But I don't have the time."
What does Tamil Nadu's Number One heroine do in her free time? "Whenever I have a day off, I hop over to Mumbai to catch up with old friends and new films," admitting she has no friends in the Tamil film industry. "Over here, it's just hi and bye with everyone."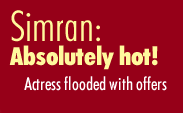 June 14, 2001
The story of Simran is getting curiouser and, to quote Alice, curiouser.
The erstwhile glam doll hit a high with an impressive display of acting skills in the superhit Vaalee (costarring Ajith). And word was out that she was Tamil Nadu cinema's new queen bee.
Then came the buzz about her romantic liaison with ace choreographer Raju Sundaram. Simran, while acknowledging the relationship, indicated that wedding bells were not imminent -- but the industry buzz was that she was cutting down on her assignments.
Cutting down, hell! You can't go to a muhurat, seemingly, without tripping over the svelte star. And her assignments seem to be getting more and more high profile with every passing day.
There is, for instance, Udaya, costarring Vijay -- a film to be directed by Azhagham Perumal. Then, there is the one she is doing opposite Kamal Haasan -- Pammal K Sambhandam, to be directed by Mouli, with Simran playing a doctor.
Also 12B, the directorial debut of cinematographer Jeeva (whose credits include the first three films of director Shankar, namely Gentleman, Kaadhalan and Indian, the last of which was also a hit in Hindi in the dubbed version Hindustani).
In this film, Jeeva, in fact, pulls off a casting coup, getting TN's two top heroines Jyotika and Simran back together in one frame.
The last time the two came together was in Vaalee -- at which point, however, Jyotika was a complete unknown.
Not to forget Simran's coup in landing Paarthale Paravasam -- the 100th directorial venture of K Balachander, doyen of Tamil film directors. This one, incidentally, will see her sharing screen space with, among others, her very own Raju Sundaram.
If that list isn't high profile enough for you, then here's the clincher: Mani Ratnam, no less, has now cast her in the lead, opposite Madhavan, for his upcoming film Kannathil Mutham Ittaal.
The film, incidentally, has Madhavan playing the father of two kids. And, again, Mani Ratnam, with an eye to scoring talking points, has cast Malavika, daughter of ace Carnatic singer Sudha Raghunathan and Keerthana, daughter of matinee star Parthiban and his wife, the erstwhile actress Sita, in the two child roles.
It's Simran's entry into the cast, though, that's got the industry buzzing.
Word was that Mani first considered Soundarya, then the up and coming Bhumika (who, incidentally, is hot coming off a mammoth superhit in Telugu, opposite Chiranjeevi's brother Pavan Kalyan, in the remade version of the Tamil Vijay-Jyotika starrer, Kushee.
It's Simran, though, who's gone and landed the project -- and for a star supposedly cutting down on her engagements, she seems to have acquired a pretty full hand.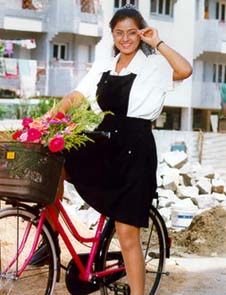 Sister act!

December 01, 2001
The buzz within the Tamil industry is that Simran, at this point sharing the top berth in the roster of Tamil film heroines alongside Jyotika, is working towards completing signed and pending engagements, with a view to matrimony.
No worries, though -- the star's sibling, Monal, will attempt to fill the vacuum created by her successful elder sister.
Monal, who does bear more than a passing resemblance to her more famous sister, is currently busy with the first schedule of her debut film, Paarvai Ondru Pothumae, in and around Madras.
Cast opposite her is Kunal, the Pune boy who debuted opposite Sonali Bendre in the Internet love story, Kaadhalar Dinam, under Kadhir's direction.
Paarvai... will be directed by Muralikrishna, an ad filmmaker who promises, for this film, a trendy young look and feel. Other debutants in this film include Bharani, who will compose the music, and Sreesankar, the well-known Malayalam cinematographer who will debut in Tamil.
With this, the trend in Tamil to throw up sister acts continues. From the days of the Padmini-Ragini combine, to the Ambika-Radha and Radhika-Nirosha sisters, heroines have tended to keep it in the family. Of more recent vintage is Jyotika Sadanah, sister of Nagma, who entered the Tamil industry after a brief reign at the top by her elder sister.
Interestingly, Nagma's other sister, Roshni, also had a brief foray in Tamil films, appearing in one film opposite Karthik.
Simran for her part is on a high over the last couple of years. The actress who made her screen debut in ABCL's Tere Mere Sapne (remember her Aankh mare number?) subsequently moved over to Kodambakkam, attracted notice through her pairing with Prabhu Deva in VIP, and went on to do films opposite all the leading men of the current generation -- Vijay, Ajith, Surya, Prashanth, et al.
Over the last couple of years, she has to her credit superhits like Thullatha Manamum Thullum, Jodi and Vaalee. She has also appeared in one Malayalam film, with Mammootty heading the star cast.
Even as she cut down on her film commitments in recent times, Simran landed a prestigious project when she was cast as female lead by K Balachander, doyen of Tamil directors, for what will be his landmark 100th film. KB's latest, which comes after a considerable gap (his last was Kalki) is also scheduled to go on the floors soon.